You Need Proper Flood Damage Mitigation Allowing Your Family to Move Back into Your Home Safely
4/4/2023 (Permalink)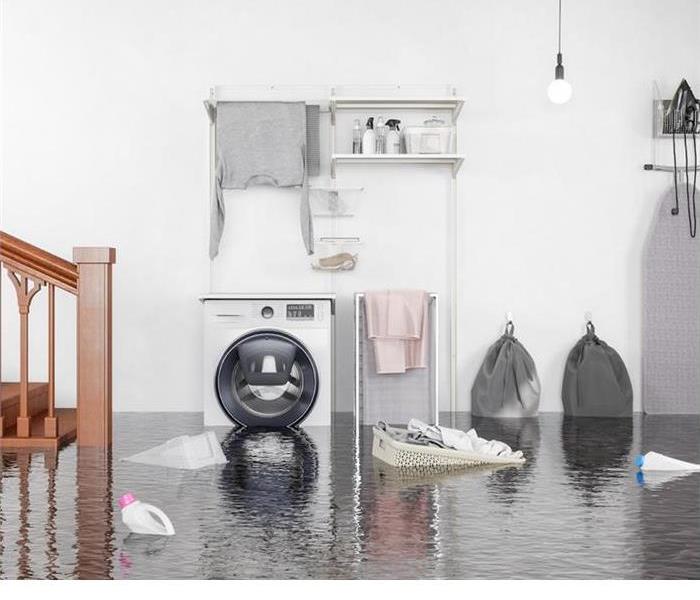 After flooding occurs in your home, you want everything dealt with properly. Contact SERVPRO for certified professionals to help you.
SERVPRO Provides the Services to Mitigate Flood Damages
Before and during a flood, your family's reaction can often reveal how much stress and shock they feel. At times, it might seem as if the flooding event equals the end of as they know it and that nothing can ever bring things back to normal again. SERVPRO wants to assure you that we can help your family by remediating most things affected by the flood and helping you manage your belongings so that your family recovers as quickly as possible.
Our services include taking an inventory of your belongings that we box up while in your home to protect you from any damage Items that you disclose to SERVPRO workers that require special handling or that your family needs during the mitigation process receive priority treatment so you can relax and take care of other issues affecting your family.
After your home's mitigation process comes to a conclusion and the time for your family to return home comes closer, we begin returning your belongings so your family can easily find them. After we begin cleaning boxed items in our warehouse, we rebox them according to matching labels, keeping things orderly for your convenience. When we return your family's belongings to your home, we place each box or larger item back in the place designated at the time we packed it for cleaning, drying, and other restorative work. This inventory control helps reduce confusion and keeps things neat and tidy for unpacking items. We catalog non-salvageable items in a CCIS, Contents Claim Inventory Service, providing assistance with your insurance carrier and protecting our customer's interests.
Flooding can cause problems with plumbing, gas lines, and electrical systems. Before your family's arrival, experienced and IICRC-certified technicians and other specialists that SERVPRO partners with thoroughly checked to ensure these all met safety code and other standards of safety. Air vents and ducts in positions below the water line also required cleaning and disinfecting. All materials in your home are now in a preloss state, "Like it never even happened," and safe once again for all members of your family.
SERVPRO of Burlingame, Millbrae can assist you and your family from start to finish when flood damage threatens your home. Call our emergency services hotline at (650) 651-7290 so we can help you through the entire process of damage repair and mitigation.