Understanding the Components of Water Removal in Homes
4/4/2023 (Permalink)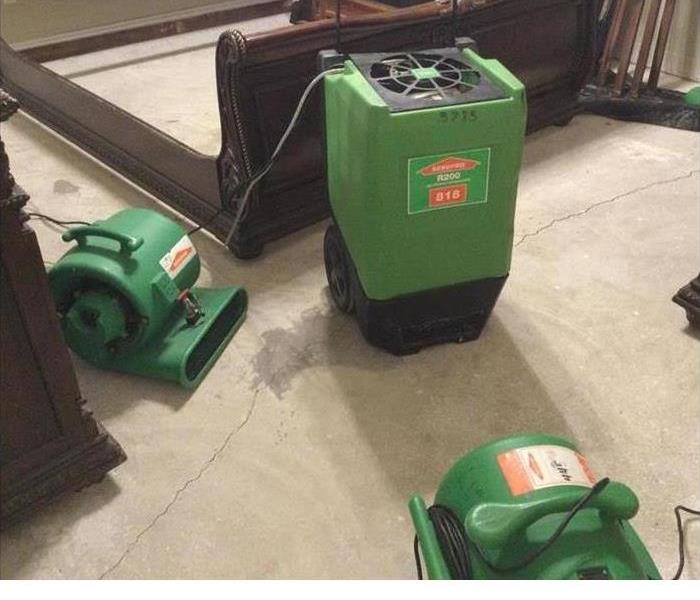 Water damage mitigation by SERVPRO using advanced drying equipment can often salvage belongs for our customers
Mitigation Starts with Water Removal

Standing water can quickly threaten your household with flooding, broken pipes, appliance failures, and other major water damage events. More than this, several types of water removal services might be necessary to avoid costlier structural damage.
Getting Emergency Services Started Early
Water mitigation hinges on early efforts like water removal from your homes. Because there are multiple ways to reach this goal, we first prioritize the pressing issues like standing water and saturated building materials. The prompt arrival of our SERVPRO professionals ensures no delay in getting these mitigative steps started fast.
What Tools Influence Water Removal Services?
With how important the water removal objective is to the restoration process, it is no surprise that many of the tools and equipment in our inventory are designed for this purpose. We utilize several strategies and approaches to minimize moisture migration through the structure, however possible. Some of the common implements and instruments include:
Extractors: Water removal services begin with eliminating surface water by using pumps and vacuums.
Air Movers: High-velocity blowers promote the evaporation of wet materials, often preserving these elements in the process.
Special Drying Tools: Some of our equipment is exclusively designed for specific materials that get wet, such as drying mats pulling moisture from plank flooring.
Dehumidifiers: These tools help remove water in the air, which can increase with evaporative drying tools like air movers.
Positive Pressure Systems: These units (injection-dry) infuse dry air into the wall systems to promote the evaporation of moist cavities.
Water removal services combine several efforts of our professionals to eliminate as much water and harmful moisture from the property as possible throughout the mitigation and restoration processes. Our SERVPRO of Burlingame, Millbrae team arrives with the tools listed here to get emergency services started as soon as possible and protect your property from avoidable harm. Call now at (650)651-7290.